Venture Dorm Graduation: Demo Day
Graduation season is upon us – from Venture Dorm, that is! Our third graduating class from the Limestone Coast has concluded Venture Dorm, Flinders NVI's award-winning start-up program, following an intense eight weeks.
We celebrated their achievements on Thursday, June 13 at Demo Day and the official launch of eNVIsion Limestone Coast @ the Mount Gambier High School Collaborative Learning Centre. Finalists pitched their business concepts to a panel of expert judges and competed for a sponsored prize package, while certificates were presented to the entire graduating class.
Five finalists were selected by the judges earlier this month to pitch on Demo Day (outlined below). Congratulations to these founders who are making waves, and the entire graduating class!
Karen Kemp – The Echobean
Echobean creates products made from coffee ground waste, providing a safe alternative to protecting the environment once the grounds have finished their lifetime. Contributing to the circular economy, Echobean aspires to solve everyday problems from reducing water bills, toxic chemicals, and fertiliser that we feed the plants that we eat. Customers including retail, business organisations, local councils, sporting grounds, and community groups can purchase products direct, wholesale, and through a local stockist.
Tanya Pettingill – Jolly Soles
Jolly Soles aspires to be the go-to fundraiser for any age and any cause by offering an affordable, quality, and sugar-free product that everyone uses while still providing excellent fundraising profits: socks! Jolly Soles aims to change the fundraising game, providing products that families need to buy anyway rather than having additional expenses when it comes to fundraising. Their carry boxes of funky socks can be sold to schools, sports clubs, charities, community groups, and individuals as fundraising tools.
By selling in boxes, unit prices per pair can be kept low and still provide great returns.
 Jamie Harding – Theatrix VR
Theatrix VR believes that access to the arts is an essential public good and that the digital domain can rapidly expand global audiences and provide access for all. It aspires to be a global leader in giving exclusive access to live and on-demand experiences in virtual reality. Using its groundbreaking VR platform, it sees itself as the next generation of arts broadcaster, dedicated to streaming world-class live performance and arts experiences to your home.
Dylan McQueen – Scroll Queen
Scroll Queen wants to create the Australian brand of a cinnamon scroll that everyone knows and loves. There are world-class cafes and coffee bars in Australia's $10 billion revenue coffee culture market but a vast number of them lack premium baked goods. Armed with his unique recipe, Dylan wants to tap into the huge potential that exists in selling scrolls to cafes, coffee shops, and shopping centres throughout Australia.
Kylie Ind – Woolstore Brewery
Woolstore Brewery is on a mission to build a local community by owning, producing, and exporting craft beer. It aspires to provide greater access to locally-produced craft beer using local ingredients and wants to serve it in a socially responsible manner.
The judges heard all of the incredible pitches over the course of Demo Day and made their final verdict – congratulations to Jamie Harding of Theatrix VR!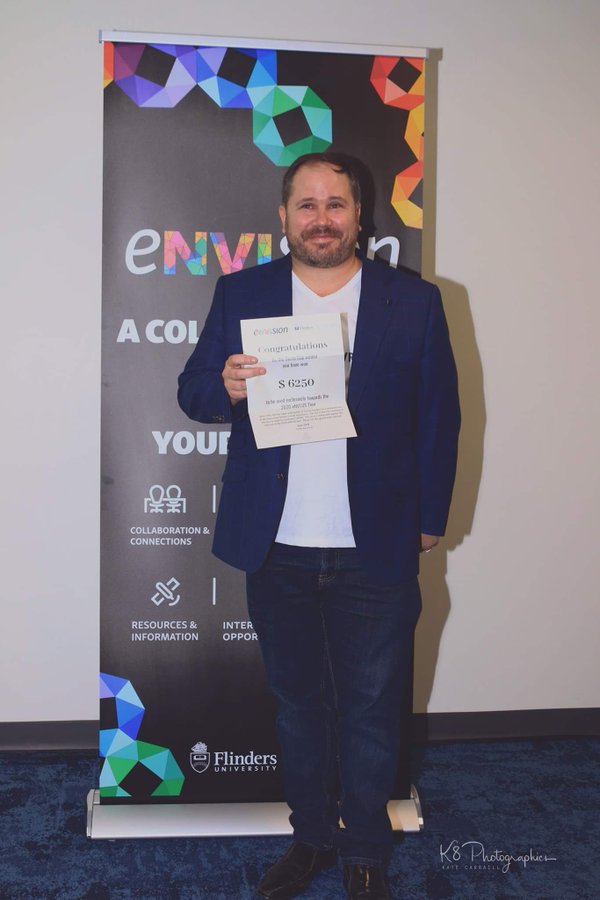 Jamie Harding from Theatrix VR took out first place, winning a sponsored prize package of over six thousand dollars! This money will go toward the eNVI.US Innovation Mission which sees multiple startup founders travel to three premium startup locations in the US, attending more than 30 events, pitch competitions, founder visits, network meet-ups and experience South by Southwest (SXSW) Interactive. Jamie also received a one-way ticket to the eNVIes, a final competition where all Venture Dorm Demo Day winners will pitch head-to-head for a final sponsored prize pool at the end of the year.
Congratulations to all who pitched on Demo Day and the Venture Dorm graduates, you should be extremely proud of how far you and your startup has come.
Do you have a business idea you want to get off the ground?
---
Inspired to kick start your own business idea? Applications are now open for the fourth round of Venture Dorm in the Limestone Coast. Apply below:
Oops! We could not locate your form.